Are you looking to learn Spanish but not sure where to start? With so many language learning platforms available, finding the best one for an exciting endeavor can be a hectic task.
Among the best platforms for learning new languages is Babbel, which you have probably heard of during your research. But then the question arises, 'Is Babbel any good for learning Spanish?'.
This comprehensive review will look at the Babbel Spanish program's cost, features, pros & cons to help you make an informed decision. Because it is essential to know whether Babbel is a good choice for your Spanish learning journey before investing your time and effort in it.
Let us give you some insights about the platform before analyzing its potential strengths and weaknesses.
What is Babbel? How Does it Work?
Babbel is an online language learning platform with a strong position in the field. The premium app is designed to help people learn languages effectively. It smoothly runs on both desktop and mobile screens. The app currently offers 14 languages, and Spanish is one of their most popular choices. With their user-friendly interface, they give the ease of learning to its users.
So, how does Babbel work?
With its mobile app and website, Babbel provides a convenient way for users to sign up. Users then select the language they want to learn and then their proficiency level, which can be from beginner to advanced. The software then customizes a learning path based on your selection
Lessons are divided into modules of 10 to 15 minutes, keeping an ease for you in busy schedules. Each lesson is a combination of visual, auditory, and text-based exercises, vocabulary for daily use, and conversation skills. For practical learning, it has quizzes to test your learning and a speech recognition technology to work on pronunciation.
Babbel is not just an app but a comprehensive language tutor in your pocket.
Can We Learn Spanish with Babbel?
Spanish is the fourth most-spoken language in the world, with 474.7 million native speakers worldwide. The official language of 20 countries, Spanish is one of the strong options to choose as your next language. Read this article to learn more about the potential benefits of learning Spanish.
While it offers a number of opportunities, learning it is certainly not an easy job. With unique grammar, different dialects, and difficult vocabulary, it can be a tough task to master the language.
You will probably need a great platform to help you with this. And when we are talking about Babbel, you might be wondering if is Babbel the best way to learn Spanish.
The answer is yes. You can certainly learn Spanish well from Babbel. It offers comprehensive courses specially designed to help beginners learn the language effectively. The app focuses on a practical approach rather than an academic one.
It provides a structured curriculum that covers essential vocabulary, grammar, conversational phrases, and practical language skills. Babbel can help you learn Spanish at your own pace if you're motivated.
Babbel Spanish Program: Costs & Features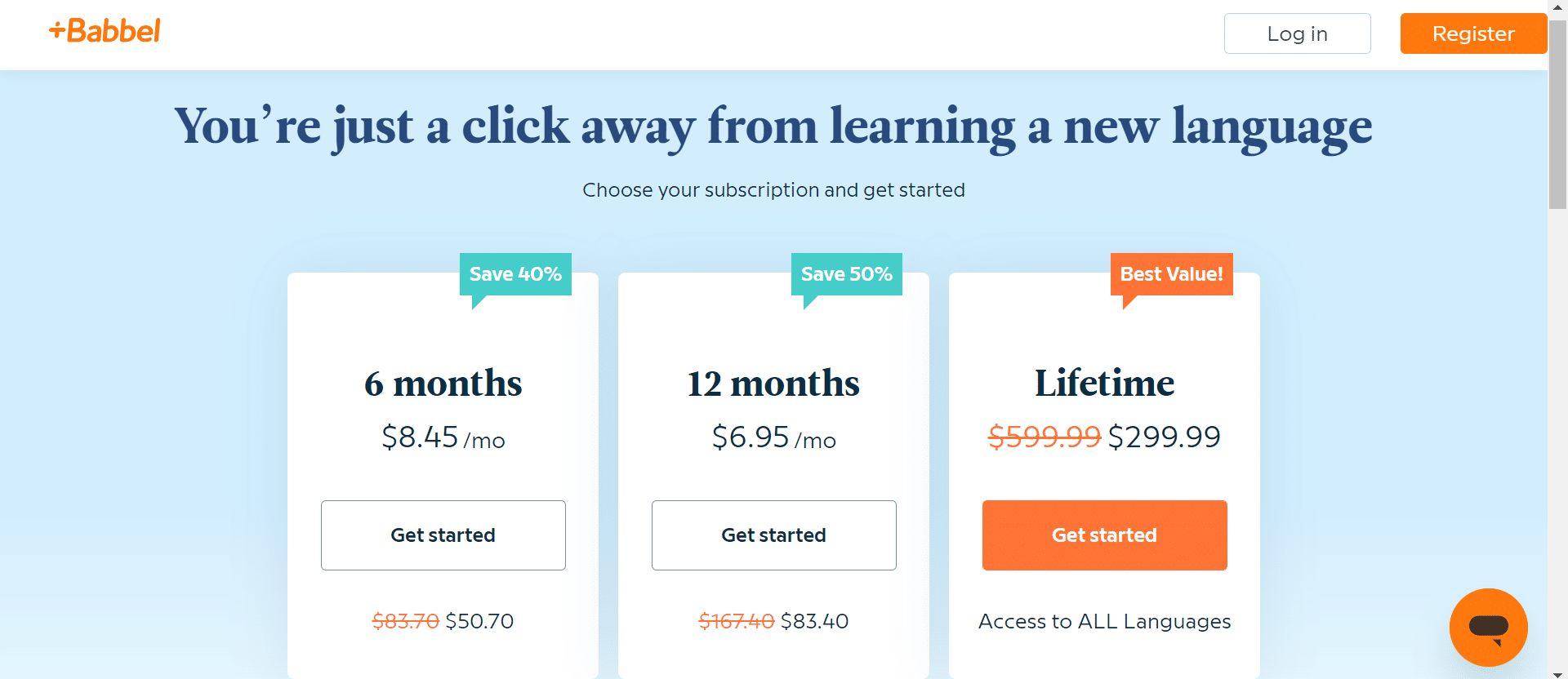 Costs:
Babbel offers various subscription methods for its customers to choose from as per their needs. Generally, it offers a monthly subscription currently priced at $14.95, a three-month subscription costs $37.95 ($12.65 per month), and a more cost-effective $6.95 per month if you subscribe for the whole year. For lifetime access, the cost is $299.00.
The pricing is quite reasonable as compared to other premium language learning programs. It is one of the strong aspects of Babbel.
Features:
Firstly, Babbel's Spanish program covers various topics and vocabulary. Thus, it ensures great learning for everyone. The lessons are interactive and engaging, which helps the beginners to quickly grasp it. The program has essential grammar rules, vocabulary, and tools to construct sentences and engage in conversations.
Secondly, Babbel's speech recognition technology proves great for improving your pronunciation and speaking skills by providing instant feedback.
Third, the Babbel mobile app lets you learn on the go; it provides an offline mode making it easier to learn anywhere, even without the internet.
Lastly, the platform keeps track of your progress. It allows you to see how far you have come and helps you identify the areas that need improvement.
If you're wondering, "Is Babbel the best way to learn Spanish?" these features, coupled with the reasonable cost, make it a strong contender.
Babbel Spanish Program: Pros & Cons
As every platform has its strengths and weaknesses, so does Babbel. Let us give you a balanced view by compiling a list of pros and cons for Babbel's Spanish program.
Pros
Comprehensive: Babbel's courses cover all aspects of language learning – reading, writing, listening, and speaking. Users can enjoy a holistic language learning experience.
Convenience: Babbel is available on various devices, and your progress is synced across all. This flexibility allows you to learn anytime, anywhere.
Interactive Learning: The interactive nature of the lessons keeps learning fun and engaging. The app's Conversation Trainer is especially helpful in instilling confidence in speaking Spanish.
Price: Compared to other language learning platforms, Babbel offers a quality experience at a reasonable price.
Cons
No Free Version: Unlike some competitors, Babbel doesn't offer a completely free version. The free trial gives you access to the first lesson in each course, but beyond that, you will need to subscribe.
Internet Requirement: For most of its features to work, Babbel requires an internet connection. This can be a limitation if you want to learn on the go but don't always have access to Wi-Fi or mobile data.
Lessons Can Feel Repetitive: Some users report that the lessons can feel repetitive over time, especially for advanced learners looking for more challenging content.
Alternatives to Babbel
While Babbel offers a number of features and can be a good choice, it is always better to look around and explore more options too. Here are some alternatives to Babbel that can suit your needs well too:
Duolingo: It is a popular app that uses gamification to keep language learning fun and engaging. For beginners, it can be a great choice. However, Duolingo may not provide in-depth learning as Babbel.
Rosetta Stone: It is similar to Babbel; Rosetta Stone uses an immersive approach to language learning. With excellent pronunciation and a comprehensive curriculum, it is beneficial for building conversational skills. But it can be pricier than Babbel. Read this to learn more about Rosetta Stone's Spanish Program.
Busuu: Busuu provides a well-structured curriculum and a unique feature that allows you to get feedback from native speakers. However, some advanced features are locked behind a paywall.
Pimsleur: Pimsleur's strength lies in its focus on conversational skills. It uses a unique method that promotes active participation over rote memorization. Pimsleur is ideal for auditory learners but lacks interactive exercises.
Verdict – Is Babbel Any Good for Learning Spanish?
This comprehensive review makes it clear that when it comes to learning Spanish, Babbel can indeed be a helpful tool. Structured, engaging, and interactive, the language learning platform has a style and level that can suit the beginner's needs. The real-world scenarios lessons are a great way to keep the learning practical.
Therefore, if you've been questioning, "Is Babbel any good for learning Spanish?", the answer is a definite yes. Babbel's effective way is not just incredible for learning but also easy on your pockets. In a nutshell, Babbel is a great choice to learn Spanish.
---
Frequently Asked Questions
Is Babbel worth it for Spanish?
Absolutely, Babbel is definitely worth considering for learning Spanish. It's a user-friendly language app that focuses on practical, real-life conversations. With interactive lessons and a variety of topics, it can help you build your vocabulary, grammar, and speaking skills. Babbel's structured approach and emphasis on repetition can be effective for beginners and intermediate learners alike.
Is Babbel's Spanish course suitable for beginners?
Yes, Babbel's Spanish program is designed to cater to learners of all levels, including absolute beginners. The lessons start from the basics and gradually progress to more complex topics.
Can I learn Spanish with Babbel offline?
Yes, Babbel allows you to download lessons and learn offline. However, not all features are available offline, and you'll need an internet connection to sync your progress across all devices.