Spanish is an excellent choice if you wish to study a second language.
It sounds melodic to the ear, it's the second most commonly spoken language globally, and English speakers find it easier to learn than any other language.
It's simple to understand why so many individuals want to learn Spanish — most people wish to explore Spain and Latin America — but it's also essential for business and professional success in various fields.
Whatever the cause, there are several options available to assist you in learning the language.
With so many options for learning Spanish online, it's critical to select a course or program that meets your requirements, budget, and learning style.
We've compiled a comprehensive list of high-quality online Spanish classes, as well as what they specialize in. We hope that our list will assist you in finding a course that is right for you and allowing you to get started on attaining your objectives as soon as possible.
Best Online Spanish Classes
1. Lingoda
Are you looking to learn Spanish for free with real teachers? Then the Lingoda Super Sprint challenge may be for you, where students get the chance to win their fees back.
Lingoda is a European online language school in Berlin that offers English, German, French, and Spanish sessions using Zoom's video platform.
The teaching panel consists of native speakers worldwide and can accommodate your schedule. Their language instruction focuses on communication, with plenty of speaking practice.
Lingoda uses the Common European Framework of Reference (CEFR) for Languages to identify skill levels. You can even take a free placement exam to determine your skillset and where you should start.
Lingoda offers a seven-day free trial, and the fee after that ranges according to how many lessons you want to take each week.
Classes are 60 minutes long, and you may take them alone or in groups of three to five individuals. Lingoda is an attractive choice if you require online private or group classes with a very flexible class schedule.
Price (monthly plans)
One class per week costs around $56 per month ($14 per session), three courses per week cost approximately $138 per month (almost $11 each course), and daily classes cost roughly $380 per month (nearly $9 every class).
Pros
An alternative to other instructional platforms that is more structured and organized
Classes in small groups (3-5 students max)
Approach to teaching that is authentic and based on real-life situations
Cons
Pricing is very confusing
2. Baselang
Baselang is an excellent option to consider for those who want to learn as much Spanish as possible in a brief period.
For $149 per month, they provide unlimited Spanish lessons via video chat. This seems like an enormous sum at first, but if you commit to three or four classes each week, the cost of each lesson is pretty inexpensive.
A "grammarless" option is available on the Baselang platform, allowing you to learn Spanish without memorizing conjugation charts.
Base lang is ideal for individuals who have the leisure to take advantage of the "unlimited classes" offered, such as university students on vacation, persons taking a professional sabbatical, or retirees.
Price
$149 per month
Pros
Great user interface
Quickest ways to learn Spanish
Spend unlimited time learning
Cons
Not a suitable option if you do not have a lot of time to study
3. Spanish VIP
SpanishVIP is one of the best online Spanish lesson booking services, providing customized course curriculums in individual or group classes.
The unlimited lesson offer for group sessions is one of SpanishVIP's notable features, and private coaching is also available. SpanishVIP, unlike its rivals, has an in-house staff of Spanish teachers so that you can anticipate consistency.
The team of teachers at Instituto Hispania is highly experienced and has an excellent academic background.
The Instituto Hispania Teacher Team is made up of native Spanish speakers.
Price
Group sessions begin at $79 per month, and private classes start at $129 per month.
Pros
Lessons for group sessions are unlimited
Teaching personnel that are qualified and experienced
Adaptable curriculum
Cons
Some of the most valuable benefits are only available at higher price ranges
4. Live Lingua
Live Lingua has improved learners' FSI (Foreign Service Institute) language classes and now offers them to all learners.
The US government initially utilized these now-free courses for training diplomats and foreign service personnel for their responsibilities abroad.
The recordings' goal is to deliver practical, digestible, and ready-to-use sentences that may be used in the actual world.
This resource serves as a great crash course for the Spanish language. Live lingua is also home to some of the best teachers of the Spanish language. They also offer a free trial.
It has over 50 hours of free online Spanish content and a suggested course time of six months, especially if you plan to visit or migrate to South America, as Latin American Spanish is the central theme of the recordings.
Price
Begins at $20 an hour
Pros
The courses are free and contain a wealth of information, including audio and e-books
For decades, the Foreign Service Institute has been synonymous with excellence
Drills and spaced repetition will help you learn quicker and more effectively
Cons
The audio quality is poor because the lectures are nearly 50 years old
5. AIL Madrid
During the Covid-19 epidemic, AilMadrid is a language institute within the capital city of Spain.
They currently have 20 different online programs available each week, with intense sessions at 142€. Courses are available at all CEFR levels and are based on 50-minute video-chat courses.
There are alternatives for learning full-time or studying for a more extended time in smaller increments.
One of the critical differences between AilMadrid and other language schools is its importance to the social side of the language. You will be present within a "virtual classroom" with 6-8 other students, with opportunities to communicate privately and work in groups and pairs.
There are also three informal "after-school events" every week, similar to traditional language schools, including online museum visits and salsa-dancing classes.
Price
Starts at 108€ per week
Pros
Small classrooms
Emphasis on the social side of the language
Flexible schedule
Cons
6. Hispania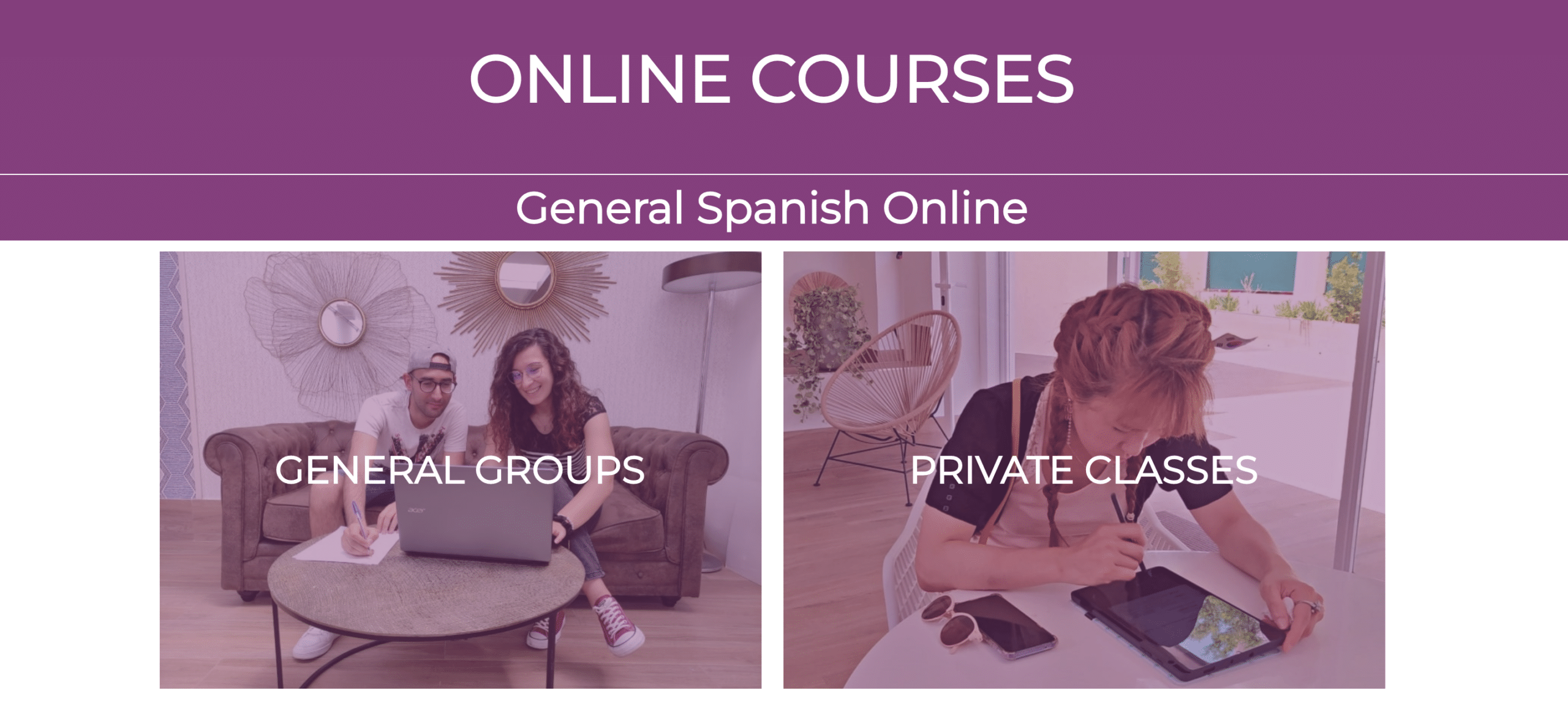 Choose the time that works best for you at Hispania. And if you can't attend class one day, you can cancel it and attend it later.
You will never be late for class. The duration of each lesson is 110 minutes.
All the sessions are offered in a multicultural setting where you may meet people from all over the world. Learn Spanish at your speed, from the comfort of your own home, with the most outstanding specialists.
You may take our General Spanish course in two ways:
General Groups: Study with your classmates and participate in the online class. Each class has a total of ten active students.
Spectators: Come to our classes as a spectator without taking part or using a camera or microphone.
Price
Starting from €105
Pros
Flexible timings
Interactive classrooms
Small classrooms
Cons
The quality of teachers may vary
7. Cervantes
For almost ten years, Cervantes EI has served as a Spanish teaching facility for foreigners. It has been available both onsite and online.
Cervantes Escuela Internacional provides four levels of online Spanish courses, each of which is broken into two sections, for a total of eight online courses ranging in rank from A1 to B2. Lessons for levels C1 and C2 are available through Skype.
Each section is organized into parts and is developed with a specific theme. Reading, vocabulary, grammar, hearing, and practical and functional Spanish are all covered in these modules.
Guided exploration tasks, clear explanations, and corrections are used to introduce and practice the language.
It is possible to mix multiple levels with Cervantes Escuela Internacional, albeit you must have at least an intermediate level (for example, B1 Part B and B2 Part A); this allows the student to proceed without repeating the introductory courses that they already know.
Price
Starts at 200€ per 4 weeks
Pros
Highly qualified teaching panel
Personalized study plans
Interactive learning is provided
Cons
8. italki
Choosing a private tutor has never been easier than with italki. Italki has long-serving educators and novices, with fees ranging from $4 to $60 per hour. However, most instructors cost between $10 and $15 per hour.
The instructors' caliber will vary; all professional teachers are competent. On the other hand, community tutors are outstanding lecturers and would be pleased to work with you despite their lack of formal teaching.
It may take some time to find a professional or community tutor with whom you are comfortable. There are over 400 certified experienced and community tutors on staff. Unfortunately, however, there isn't much to keep you motivated to study.
You may obtain specialized education at a meager cost, as well as assistance with complex grammar regions, or just a conversation partner who can correct you as you talk. The lessons are all one-on-one.
Price
Ranges from $5 to $60 per hour
Pros
Lessons are affordable
Learning that is highly tailored
You may study at your speed without adhering to specific timetables or paying fixed fees
Cons
Quality varies by teacher
9. PrePly
Preply is a directory of online tutors who speak a variety of languages. You may search the tutor directory to find the best Spanish language teacher for you, including when they are available to teach.
You may also decide if you wish to learn from a native speaker, what category of Spanish they teach, and, most importantly, how much they charge for sessions.
The sessions start around $5 per hour and are one-on-one, making it a much better value than sitting in a classroom with a dozen other students fighting for your professor's attention.
Speaking is the focus of the prep lessons. There is no rigid curriculum, and you and your tutor have complete control over what topics are covered in class, the amount of homework assigned, and how regularly you meet.
Even the shyest or reluctant students feel comfortable conversing in Spanish within a private video chat. Especially with a helpful teacher, it's a psychologically secure environment to begin practicing aloud.
Price
Starts at $5 per hour
Pros
Excellent approach to developing your spoken Spanish skills
A personalized tutor who tailors sessions to your specific needs
Wide variety of teachers from all around the world
Cons
Live courses need a continuous and strong internet connection
10. Verbling
Language students of Verbling have access to over 10,000 teachers, so you're virtually sure to find one that teaches your favorite language, fits your schedule, and is within your budget.
Verbling has no set cost; instead, their instructors offer the courses.
Classes vary in price from $5 to $50, and it's worth noting that many teachers provide package deals for students.
Free lessons are periodically offered at the teacher's discretion, and Verbling occasionally runs special discounts or distributes coupons to new clients. All users are also entitled to a seven-day free Verbling trial.
The platform's ease of use is regularly complimented in Verbling customer reviews. It has a primary, user-friendly interface that is easy to explore and understand. Furthermore, their search option for discovering teachers is excellent. All lessons are one-on-one and private.
It also offers a mobile app for iOS and Android users. The Verbling app has a rating of 45 stars, and some popular reviews state that it is dependable and user-friendly.
Price
Starting from 5$
Pros
Professionally instructed classes
Choose a tutor and make direct contact with them
Excellent help offered
Only permitted to pay for one lesson at a time
Cons
Lessons are somewhat expensive
Only works with Chrome browsers
Why Learn Spanish Online?
Here are some reasons why you should consider learning Spanish online.
1. Study Under Your Timetable
They aren't as time-consuming as traditional, in-person classes, and they won't take up all of your free time.
Many online programs allow you to work quickly and are pretty adaptable. You will no longer have to deal with a jam-packed schedule, where you have to rush from one class to another. Neither will you have to avoid social gatherings to attend classes anymore.
The best news is that any learning habit that fits in with your other responsibilities is more likely to persist in the long run.
2. Create a Classroom Anywhere
Even though there are options to learn Spanish in person near your home, the ability to study online offers significant advantages.
If you're exhausted after work, it will be much simpler to convince yourself not to abandon a class, especially if it's held at home, on your couch.
Best of all, you won't be compromising on the quality. According to a new MIT research, online courses are just as successful as classroom or lecture hall courses.
3. Enjoy Learning in a Relaxed Environment
Language learning applications have been created to keep our interest by employing the exact mechanisms that make video games addictive and enjoyable.
Thanks to online learning, you may revise your Spanish vocabulary while doing something as simple as scrolling through your mobile phone.
That is a far less stressful alternative for Spanish students than the grammatical exercises in a textbook.
4. Acquire the Same Education for a Lower Cost
There are online courses available at all pricing points. So if one solution does not fit your budget, there is always another to explore.
After all, if you enroll in a typical language course, you're paying for more than just study materials and the competence of your professors.
You're also paying to furnish, rent, and heat the classroom space.
You're also paying to keep the class running, even if it's not entirely subscribed, and to obtain accurately printed copies of all your supplies.
Because online courses are less expensive for schools and teachers to provide, they are also less costly for students to take. It's an excellent approach to master the same abilities without risking too much money.
5. Receive Personal Feedback
The first few months of any beginner's Spanish course will be nearly the same, regardless of where you are in the world.
But what if you've had a few rough starts with Spanish and already understand the basics? Online courses are significantly more adaptable to your specific interests.
Perhaps you're happy to do mechanical grammar exercises on your own, but you'd prefer to practice speaking with a real person. Perhaps you'd like to learn the terms you'll need for a hiking excursion.
Whatever your preferences are, your teacher can always do something to tailor the session to your needs.
Conclusion
The best online Spanish classes need to cover vocabulary, grammar, speaking, and listening. With the inclusion of these categories, it will become easier for you to become fluent.
Not only that, but you'll need to practice everything that you learn regularly. Without practice, you'll soon fall behind in class. So make sure your selected course offers homework and exercises to keep you active.
What better way to put freshly learned vocabulary or grammatical concepts into practice than to use them in activities and exercises designed specifically for the content you just studied?
It would be best to emphasize improving your speaking, reading, writing, and listening skills.
Overall, your determination dictates your success.
Even if you completed every course on this list and more, you might still fail in Spanish if you lack drive and consistency.
Similarly, in the hands of someone with an ambitious mindset and learning style, even terrible Spanish courses or famous words can be helpful.