Are you fascinated by mastering the lovely French language? If learning French is something you've always wanted to do, now is the time to do it.
Why? Because, whatever your goal is — from experiencing Paris' cultural riches to finding work in Quebec — or you may already know some French and wish to enhance your abilities. Perhaps you aspire to visit a French-speaking country someday. You may now study French from the convenience of your own home.
According to MIT research, the good news is that online learning is just as effective as traditional schooling. In addition, you won't have to waste time commuting to your language class, courtesy of the abundance of reliable online French classes available.
These courses have variations in their delivery mode, which gives you several options to choose the one that fits your learning pace. For example, classes might be live, one-on-one, or group sessions, or a self-paced program that you finish through recorded lectures at your leisure.
Here you'll find the best online French classes with native French teachers, and you can choose the one that best suits your interests.
We have narrowed down the top online French lessons to help you make your pick.
Best Online Classes
1. Lingoda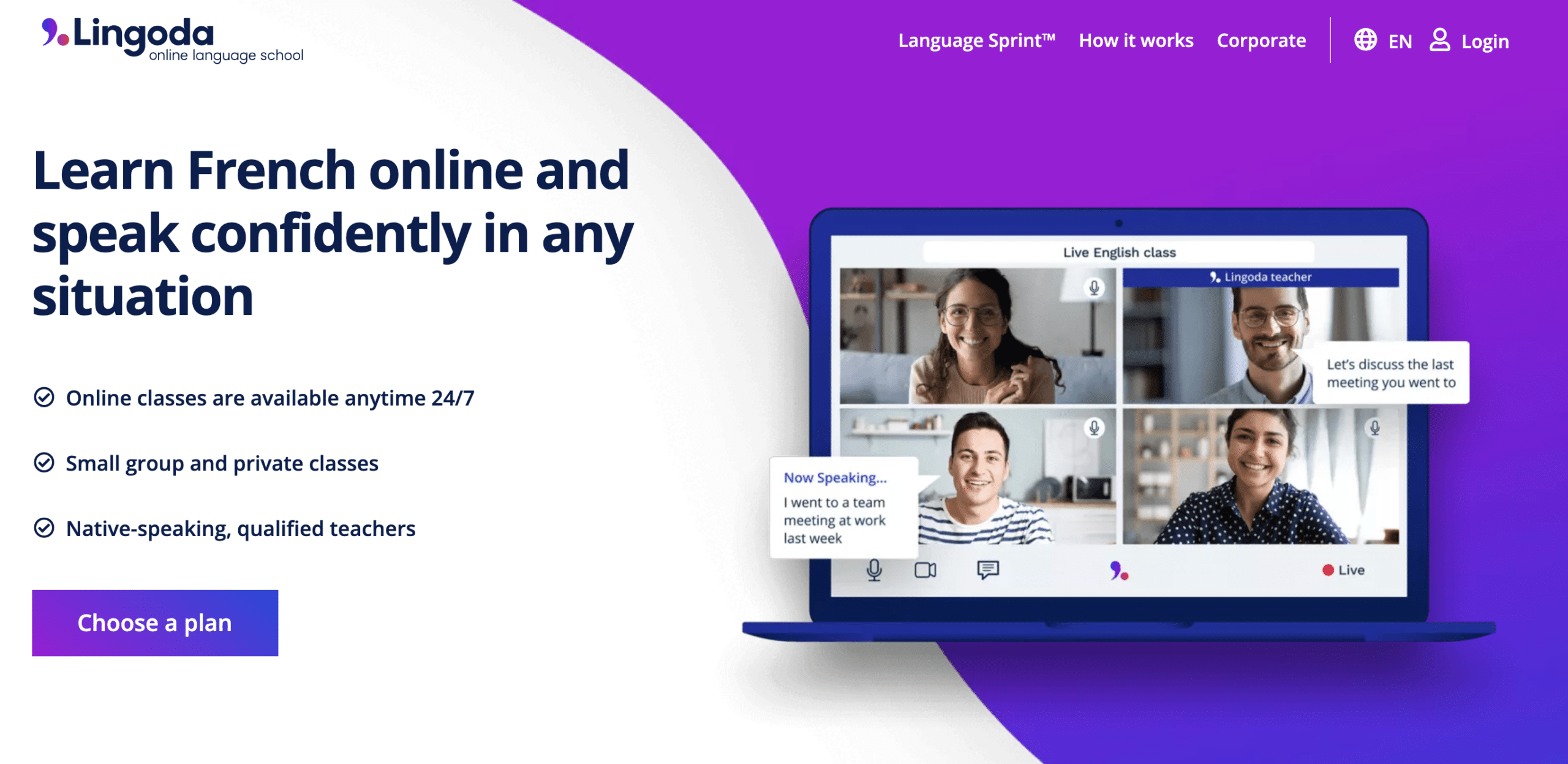 Lingoda is a Berlin-based European online language learning program that offers group and private English, German, Spanish, and French classes via the Zoom streaming platform.
Its French courses are given by expert faculty who are all native speakers and reside in various time zones, so lessons are available at all times, regardless of your geographical location.
Lingoda's language training style is interaction-based, which means you'll get a lot of speaking practice. It also employs situational training, which means applying what you learn in the classroom to an actual scenario, like ordering food at a restaurant.
Classes last for an hour, and you may choose between taking separate lessons or enrolling in a group of three to five students. When you sign up for classes, Lingoda will give you class materials that you can download and use to practice at any time. You may also take a free placement exam to determine which level you should begin from. Lingoda also provides a seven-day free trial.
Price
Super Sprint: Starting at $335 a month for 30 classes and a chance to win your fees back
Marathon Course: As low as $6.75 per class after cashback
Pros
Allows you to choose whether you wish to learn individually or as part of a class.
Situational training will help you become more fluent in everyday conversations.
Lessons are available around the clock.
Cons
A seemingly more expensive option as opposed to others.
2. Accent Français
Accent Français teaches French from pre-intermediate (A2) to advanced (C1).
Each class lasts about 45 minutes, and there are 20 lessons every week. The classes are held Monday through Friday from 9:00 am to 12:15 pm in France time (except Monday 10:00 am-1:15 pm)
Even with remote study, the teachers provide classroom engagement. Listening, speaking, writing, reading, and interacting in French are among the five activities students practice.
You will have access to all of your French course classes resources over the internet. Furthermore, you will be in video contact with your teacher and students for real-time exchanges for the entirety of the course via Zoom and Edmodo.
Teachers monitor your progress in real-time and provide feedback when correcting your classwork. They also offer you extra homework if you need to brush up on specific language abilities.
Each student receives a certification after the term indicating their French proficiency level.
Price
150€ (Standard online course) to 250€ (Intensive online course)
Pros
Teacher feedback will help progress learning.
Classes are held online in Edmodo and Zoom to provide more facilities.
Online content is provided to help students complete self-study.
Cons
Classes are not held around the clock, causing difficulties for students in different time zones.
3. Alliance Française Toronto
At the Alliance Française, about 450,000 individuals have learned French, and over six million people have attended cultural events. The Alliance Française is a non-profit organization dedicated to promoting French culture and language worldwide.
Adults and children may take French courses there. Senior students graduate from six levels of French education, from beginning to advanced. New students who already know some French are evaluated and put to the appropriate level.
Alliance Française offers big groups, mini-groups, and individual classes through many online platforms, including Zoom, Apolearn, and others.
You can also select the number of hours per week you want to work. Classes are conducted Monday through Saturday in the morning, afternoon, or evening, giving students access almost 24 hours a day.
You may also borrow books in French for adults and children, as well as French DVDs, CDs, games, periodicals, and other items to help you develop your French for a nominal yearly membership fee.
Price
$400 CAD per course
Pros
Very detailed and comprehensive
Access to an outstanding library of French resources
Well-trained teachers
Cons
Hit and miss in terms of quality
Large classrooms (less attention)
4. Institut Linguistique Adenet
ILA is Montpellier's sole French-language academy with all four major national and international accreditations. In addition, they are inspected by independent auditors nearly every year and, as a result, offer the best French classes possible.
All year long, extremely experienced, highly qualified, and devoted instructors teach according to the CEFR requirements with at least 6 French levels — most of the time 8-10 levels — by experienced, highly qualified, and committed teachers.
They provide a variety of French language immersion courses, including standard courses, intensive courses, business courses, over 50s, long-term courses, one-on-one training, and more.
Their classes are held in small groups of 5–8 students, with a maximum of 10. There are 20 lessons per week.
Individualized services, counseling sessions, and lectures are also provided to help you cope with daily living more rapidly. New courses start every Monday, year-round.
Furthermore, periodical evaluations will allow you to track your progress and evaluate your accomplishments. You are entitled to a one-hour trial lesson to ensure you have reliable high-speed internet. After this trial lesson, fees will apply.
Price
Starting from 150 € / week up to 210 € / week
Pros
• Small groups of 8 students, with personalized care if necessary.
• High-quality services, audited yearly to ensure academic excellence.
• Great learning experience in lively classrooms.
Cons
• It is expensive, with payments only for weekly classes.
5. France Langue
After evaluating your abilities and needs, you will be enrolled in a class to practice your French with students worldwide.
Verbal communication will be pretty crucial for you to become fluent in French. In addition, the teacher will offer exercises to help you communicate with one another.
New courses start every Monday, all year round. Class groups contain a maximum of 12 students. At the same time, the total duration of each lesson is 45 minutes.
Depending on the course you opt for, there will be either 6 or 12 classes per week. Private lessons are also available, with a maximum of 15 lessons in a week.
France Langue provides complimentary topic workshops (1 workshop = 2 45-minute sessions) to help you finish your French studies and explore the nuances of the language and culture.
They are sorted in the morning, and you will be placed according to your theme rather than the level. These classes will help you improve and broaden your linguistic expertise (oral, grammar, or DELF preparation workshops).
Price
39€/WEEK (6 weeks), 79€/WEEK (12 weeks), or 50-55€/Private lesson.
Pros
Free workshops will help students gain additional learning.
Reliance on verbal communication will help improve French.
FL Online platform gives access to various activities and lessons through the virtual school.
Cons
Classes of 12 seem more crowded as opposed to others.
6. italki
With italki, choosing a private instructor has never been easier. Long-serving educators and newcomers may be found on italki, with rates ranging from $4 to $60 per hour. However, most teachers charge between $10 and $15 per hour.
Instructors' quality will vary; however, all professional teachers are qualified. However, community tutors, costing less, are also excellent teachers and would be delighted to collaborate with you while they are not officially qualified.
It may take some time to locate a professional or community tutor that you enjoy. There are around 400 certified French teachers. But, unfortunately, there isn't much to keep you motivated to learn.
You may get tailored schooling for a nominal price, as well as help with challenging grammatical areas, or just a conversation partner who can correct you while you talk. All of the classes are one-on-one.
Price
Ranges from $4 to $60 per hour
Pros
Incredibly inexpensive lessons
Highly personalized learning
Study on your own terms without worrying about fixed schedules or advanced fees
Cons
Quality varies by teacher
7. Preply
Books and videos will only go so far in learning a language. Taking French classes with a professional instructor will help you become fluent in the language.
Preply, a website that links you with tutors for 1-on-1 video discussion lessons tailored to your requirements, follows this principle.
Select an instructor based on their resume, your availability, and your financial constraints. Then go through the first session with them and develop a study plan to assist you in achieving your objectives.
Your tutor acts as a language coach, focusing solely on you (rather than a group of students) as you progress from the fundamentals of French to advanced courses.
Price
Starting at $5 per hour
Pros
Great way to improve your verbal French
A private tutor that tailors sessions to your requirements
There is an extensive range of teachers from all around the world
Cons
Live classes need a good and consistent connection to the internet
8. Verbling
Verbling users have access to over 10,000 language tutors. So, you're almost sure to discover one that teaches your preferred language, fits your schedule, and is within your price.
There is no defined pricing for Verbling; rather, the courses are priced by their instructors. Classes range in price from $5 to $50, and it's worth mentioning that many instructors provide students with packages.
Free lessons are occasionally provided at the teacher's discretion, and Verbling sometimes runs special discounts or offers coupon coupons to new customers. All users are also eligible for the free Verbling trial, which lasts for seven days.
The platform's excellent degree of use is frequently praised in Verbling user evaluations. It offers a user-friendly, flowing interface that is simple to explore and comprehend. Furthermore, their teacher-finding search feature is fantastic.
All lessons are one to one, private classes.
It also has an app for both iOS and Android users. The Verbling app has a rating of ⅘ Stars, and some common reviews say that the app is reliable and user-friendly.
Price
Rangers $5 to $50
Pros
Professionally taught classes
Choose your tutor and contact them directly.
Excellent assistance provided
You may only pay for one lesson at a time
Cons
Lessons are a bit on the pricey side.
Desktop app is only compatible with Chrome browsers.
Why Take French Classes Online
1. Language for the International Job Market
In the worldwide job market, knowing French and English is advantageous. Furthermore, speaking French allows you to work for French firms in France and other French-speaking countries.
France is an essential economic partner since it is one of the world's major economies and a top destination for international investment.
2. Language for Higher Education
Learning French contributes to studying at famous French universities and business schools, among Europe's and the world's best higher education institutions.
3. It's the Ultimate Travel Companion
French is an excellent choice for passionate travelers, as it is an official language in 29 nations across five continents.
So, whether you're planning a trip to Belgium, French Polynesia, or Quebec, French can help you communicate with people, order food, understand the culture, and stray off the tourist trail.
4. Easier Access to Teachers
Because you don't sit in class with your instructor regularly, the gap between you and your teacher is more considerable in certain aspects.
However, you have far easier access in other ways. When you ask a question in class, for example, the professor must evaluate other questions that must be addressed, the time it will take to answer the question, and whether they want to answer the question at all.
You can immediately email an instructor with questions in an online class. When they respond, they can take as much time as they need to provide you with an in-depth response.
They also don't have to be concerned about answering somebody else's question before the conclusion of the class.
5. Huge Variety of Options
Online learning removes the barrier of geographic location, and the nearest options no longer bind you.
Instead, you can choose from a wide array of online institutions worldwide. That enables you to pursue your desired education from the best available and affordable options.
6. Easier to Adjust Learning to Your Schedule
You have to work around the university curriculum if you take standard coursework. If your class starts at 4 pm, for example, you must be present in the hall on time for the duration of the lecture.
If you don't accomplish those things, you'll lose out on important information.
It's a lot simpler to fit things into your calendar when you take online programs. For example, you may listen to lectures on your way to work or view videos on your couch.
You may even watch a segment of a lecture, stop it, and return to it at a later time. Online classes are the ideal answer if you already have a full schedule.
Conclusion
You want a French education with equal parts of grammar and vocabulary, regardless of your proficiency. Ensure your online French course provides you with helpful vocabulary and detailed (but understandable) grammatical explanations.
An excellent online French course should include plenty of exercises and activities so that students can put what they've learned in class into practice.
What better way to put freshly learned vocabulary or grammatical concepts into practice than to use them in activities and exercises designed specifically for the content you just studied?
Online education should have tools that assist you in improving your French-speaking, reading, writing, and listening skills. Finding online classes that allow for in-depth speaking practice in French might be difficult, but that gap can be filled in other ways. However, reading, writing, and listening to French are all essential.
You can have convenience, quality, and a French-language course that meets your unique needs with such a large number of selections to pick from.